Ribit Speed Networking for Jobs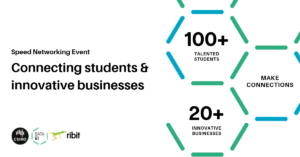 Wednesday 2nd October 3:00 pm – 5:30 pm
Ribit is Australia's leading job and internship matching platform for growing and transforming businesses to connect with university and VET students.
As part of the D61+ LIVE, Ribit will be hosting a business-to-student speed-networking event. This event is in partnership with the Federal Government's Industry Growth Centres.
Ribit's speed networking session is a high-value event for students to help them find jobs in growth sector areas and for businesses looking for highly-skilled and talented students.
What happens at the event?
Like other Ribit networking events, Ribit looks after students and helps them connect with businesses in a supportive, inclusive environment. Students will have the potential to find paid roles and internships related to their studies across the six industry growth sectors, looking for interns or to build their talent pipeline – Advanced Manufacturing; Cyber Security; Food & Agribusiness; MedTech & Pharmaceuticals; Mining Equipment, Tech and Services; Oil Gas and Energy Resources. With an expected 30 industry executives and senior leaders taking part.
Businesses
If you are a business in one of the six industry growth sectors looking for student talent and would like to partake in this speed networking session please register below:
Students
Students with skills across STEM, business analytics, marketing, digital and research, who would like the opportunity to take part in this event must register their expression of interest below: